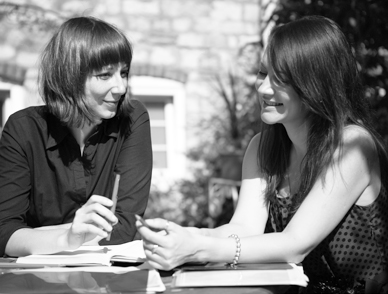 About Us
Karaolides Szynalska Architects (KSA) was established by architects Maria Karaolides and Karolina Szynalska in 2012. In 2004 they met while working at UL Architects (now Stem Architects), a multi-disciplinary award winning architectural practice owned by the University of Lincoln. Whilst there they worked on several award-winning projects for the Brayford Pool Campus including the GCW University Library, the Engine Shed Student Union, the Lincoln Performing Arts Centre; as well as the National Centre for Food Manufacturing in Holbeach.
Maria studied up to Masters level at the University of Sheffield, and she gained her professional architectural qualifications at the University of Lincoln. As an architect at Mouchel and KIER she has worked on a number of complex education facilities for Lincolnshire County Council; including the Warren Wood Community School – a SEN centre of excellence. Maria is also a lecturer at the University of Lincoln, Sheffield Hallam University, and Lincoln College.
Karolina studied Architecture and Industrial Design in Wroclaw, Poland. She completed her architectural qualification at the University of Lincoln and her Masters in Architectural History at the Bartlett, UCL. Today, as well as practicing at KSA, Karolina is working towards a PhD at the University of Cambridge. Her research aims to explore how the design of secondary schools affects pupils' appetite for learning and promotes innovative pedagogical practices. Its purpose is to establish the key characteristics of learning-sensitive architectural design. Her collaborative doctoral study is funded by the Arts and Humanities Research Council. To learn more about Karolina's research project visit spaceandlearning.org.